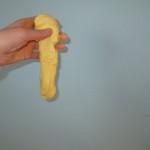 In this post, I'm going to show how to make flubber soap!
What you need:
1/2 cup cornstarch
3 tablespoons cooking oil
1/4 cup liquid soap (hand soap or body wash)
soap coloring
What you do:
Mix everything together until mixture thickens. At first it will have the consistency of icing, but then it should thicken more and get a more play doh-like texture.
Have fun with your flubber soap! Use it for washing your hands or use it in the shower or bath! Don't use the entire flubber like a normal bar of soap; rip off a little piece at a time for each use!