Soul Cakes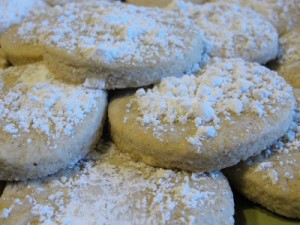 October 31 is Halloween, and Soul Cakes are the traditional treat.
Ingredients:
1 cup butter
3 3/4 cups flour
1 cup sugar
1/4 teaspoon nutmeg
1 teaspoon cinnamon
1 teaspoon ginger
1 teaspoon allspice
2 eggs
2 teaspoons cider vinegar
6 tablespoons milk
powdered sugar, to sprinkle on top
Directions:
Using a pastry blender cut 1 c. of butter into 3 3/4 cups of flour. I bought my first pastry blender just for this occasion.
Blend in the sugar, nutmeg, ginger, cinnamon and allspice.
In a separate bowl beat eggs, vinegar and milk together.
Add the wet ingredients to the dry ingredients and mix.
Kneed thoroughly to form a stiff dough. You really have to work this dough, I thought there was no way it was moist enough, but once I mashed it all up it was just right.
 Roll out to a 1/4 inch thickness and cut out 3 inch circles with a cookie cutter or glass.
Place on a baking sheet and bake at 350 for 20 minutes.
 Sprinkle with powdered sugar while still warm. ENJOY!!!