UPDATE ON "INDIANS VS. PIRATES: Indians Vs. Pirates will be officially up to buy on August 1, 2017!!!
(Scroll down to the bottom of the page to see three sneak peeks of exciting parts in "Indians Vs. Pirates!")
•*´¨`*•.¸¸.•*´¨`*•.¸¸.•*´¨`*•.¸¸.•*´¨`*•.¸¸.•*´¨`*•.¸¸.•*´¨`*•.¸¸.•*´¨`*•.¸¸.•*
I wrote a book called Escape from Tarionia. You can view the first two chapters by clicking the link below, and if you want to read more, you can purchase the book on that website as well. Here is the link to Escape from Tarionia: Click here to view/buy the book!
I would really love it if you would give me a star rating on my book page on lulu.com!!!!! I would also love it if you wrote a review!!! Thanks so much!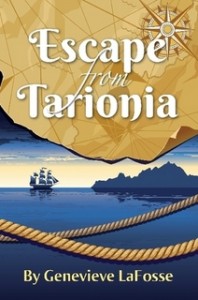 Elizabeth, John, Rose, and Luke are planning to have a fun afternoon on the beach, but the day doesn't go as expected. When they are kidnapped by pirates and then sold, it is up to the four siblings to  "Escape from Tarionia"
•*´¨`*•.¸¸.•*´¨`*•.¸¸.•*´¨`*•.¸¸.•*´¨`*•.¸¸.•*´¨`*•.¸¸.•*´¨`*•.¸¸.•*´¨`*•.¸¸.•*
I am writing a sequel to this story which is called "Indians Vs. Pirates" which will be up for purchase on August 1, 2017.  Here is what the story is going to be like: 
The cousins Maria Dublosh and Michael Peloni—the daughter and son of now grown-up Josh and Elizabeth Dublosh and John and Charlotte Peloni—are going on a vacation to camp out for a week with their families on The Wild Levalong. Maria and Michael soon make friends with two Indian children, but the Indians' father, the chief of the tribe, makes the Peloni and Dublosh families leave the island. Instead, they decide to camp out on the island of Maladore. They begin to have a good time, until the two cousins find out that pirates are secretly plotting to attack the island of Cariopia for reasons unknown to the cousins. Since Cariopia is their home island, Maria and Michael must find a way to stop the pirates from attacking. The only way to do that is to form an alliance with the Indians that could lead to a battle of
"Indians Vs. Pirates"
•*´¨`*•.¸¸.•*´¨`*•.¸¸.•*´¨`*•.¸¸.•*´¨`*•.¸¸.•*´¨`*•.¸¸.•*´¨`*•.¸¸.•*´¨`*•.¸¸.•*
I needed names for two Indian children in Indians Vs. Pirates, and I asked people to send in names. Thank you to everyone who sent in names for the Indian Boy and the Indian Girl! They were all so good and it was really hard to pick which ones I liked the best. I picked the names, and there are two winners! The winners are:
Dorothy F.
and
Jacinta
Their winning names are:
Dorothy F: Running Bear (for the boy)
and
Jacinta: Birds Song (for the girl)
Thank you! Running Bear will be the name for the boy and Birds Song will be the name for the girl!
 Here are all of the names that were sent in:
BOY:
red fox
white fox
little bear
wolf moon
running deer
running bear
green leaf
kalam
benenet
tommak
kohasec
nevada
GIRL:
white flower
morning star
misty dawn
spring fawn
little flower
moonflower
white moon
birds song
ladori
aleshanee (she who always plays)
hokopoko
maize
tatanka
HERE ARE 3 SNEAK PEAKS OF EXCITING PARTS IN INDIANS VS. PIRATES:
Sneak Peek #1."Officer! Boy am I glad to see you!" Michael exclaimed. "Pirates are planning on attacking Coconut Palm Bay in three days! There are hundreds of pirates! And Cariopia's Military Force is small!" Michael gasped.
Kid, I'm on patrol," the officer sighed. "Please, don't pester me with your tall tales! Pff! Pirates? Attacking Cariopia!" The officer laughed. "Run along! And get some dry clothes on!" Michael was upset. The officer didn't believe him.
"Officer!" Michael cried. "You must believe me! I was a prisoner at Pirates Cove!"
"Pirates Cove?" The officer asked. "Then how'd you end up here?"
"Captain Prekanta! The Cariopian Naval Captain! You see, he was at Pirates Cove too, and we escaped together along with my cousin!"
"Where are they now, then?"
"Pirates were right here in Coconut Palm Bay! But they captured Captain Prekanta and my cousin, Maria. Maybe we can still see the ship!" Michael raced back to Coconut Palm Bay with the officer. They could sort of make out the figure of two ships on the horizon, but the figures were very faint. The officer sighed and said that he couldn't tell if the ships were pirate ships or not.
"I believe you, I guess," the officer said as he looked at dripping wet Michael. "Where do you live, anyway?"
"Darské."
"Darské!" Why that's fifty miles from here! We've got to get you home! But first, we have to report your story at the police station."
Sneak Peek #2. The pirates slammed the barred cell door on the three new prisoners. They laughed and bolted back up the stone steps. Maria sprang to the barred door and yanked on it. The door clanked back and forth a bit, but other than that, it would not open.
"We're trapped!" Maria cried. She slumped down onto the cold stone floor, buried her face in her hands, and began to cry.
"It's no use crying," Michael said from the cell to her left. "It won't do you any good. We just need to find a way out of here." Maria wasn't listening to him. She kept on crying. Suddenly, there was a scurrying sound across the floor.
"What was that?" She cried.

Sneak Peek #3. 
"Pirates!" Maria and Michael gasped at the same time.
"What are they doing here?" Michael asked Maria in a whisper. "And what are they talking about?"
"Something about destroying Cariopia's military force!" Maria moaned. "I didn't know that we didn't have a big military force! And who's that guy on the floor?"
"I don't know," was Michael's reply.
The  pirate's laughter subsided, and the taller pirate spoke again.
"With their military forces gone, the Cariopians will be forced to surrender!"
"But what will we do with all of the people on Cariopia? It's a big island!" the short pirate said.
"The boss hasn't figured that part out yet," the tall pirate said.
"Well let's go back and talk to him!" the pirate on the floor suggested. "Besides, Karl here has given us the drawings of Cariopia. I know just where to attack." He arose, picking  up a bunch of maps and papers on the floor. He reached down, and pulled up the man to a standing position. Maria and Michael assumed that he was Karl.
"Attack Cariopia? Why?" Maria asked with a lump in her throat.
"I have no idea. Let's go tell our parents!"